"Youthful exhilaration"
Like the petals of a rose, multiple layers of tulle are overlaid for a voluminous effect. The beauty of the bride springs forth from this heady abundance.

Cotton guipure short-sleeve dress, encircled with seaming under the bust and at the waist. V-neckline at the front and a triangle at the back.
Voluminous tulle skirt.
Prendre RDV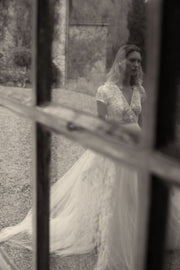 Roze